Recommended by Dr. Neil Mode - Pediatric Therapist
"Easter Egg Decorating Activity is the go-to toy this Easter. It allows kids to explore their creativity and create designs they can be proud of."
🌈The toy you can't miss out on this Easter!🥚
Fun For The Entire Family!
Allows Kids To Use Their Imagination!
Any size egg can be placed
Egg Coloring Without The Mess!
Oh, And It's Fun To Play With...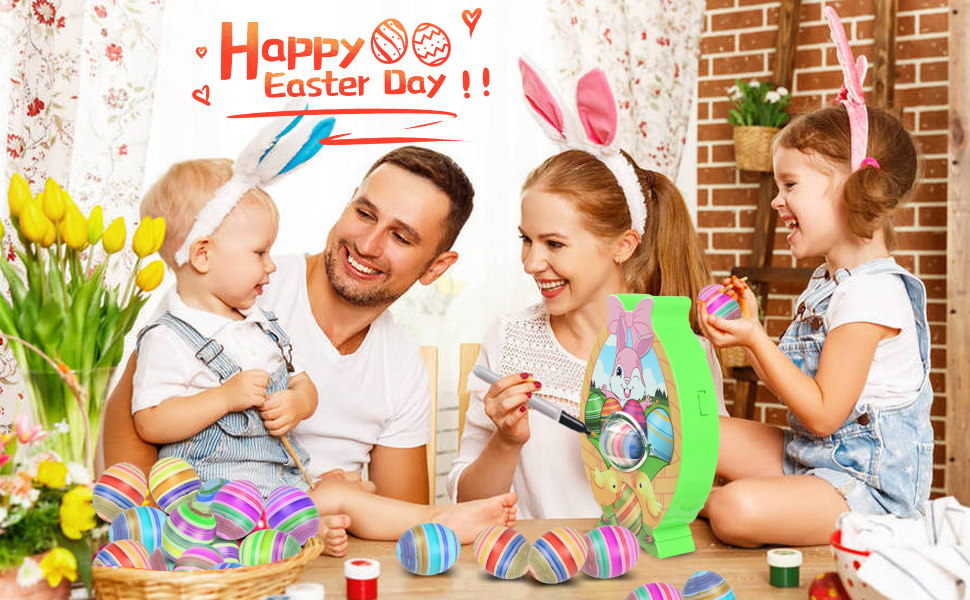 🐰NO DYES - NO SMELLS
It's all the fun without the mess. Comes with 8 colorful markers allowing you to create endless designs.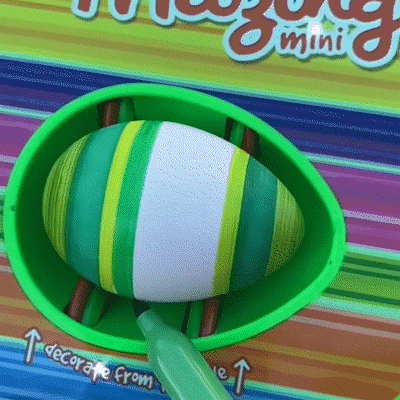 This fun DIY Easter egg decorating kit and egg dyeing machine is a perfect toy allowing your child to exercise their creativity while improving their fine motor skills.
They'll learn the joys of making beautiful colorful stripes on each egg with their own two hands and can let children freely create their own personal Easter egg.
🐰EASY TO SETUP & USE
The egg spinner holds and rotates the egg around allowing your child to easily paint the egg with nice and clean lines.
Put a toy or real egg into the machine, cover the protective housing and turn on the switch for the spinner to rotate.
Then hold a marker on the egg to create striped lines and other designs full of joy.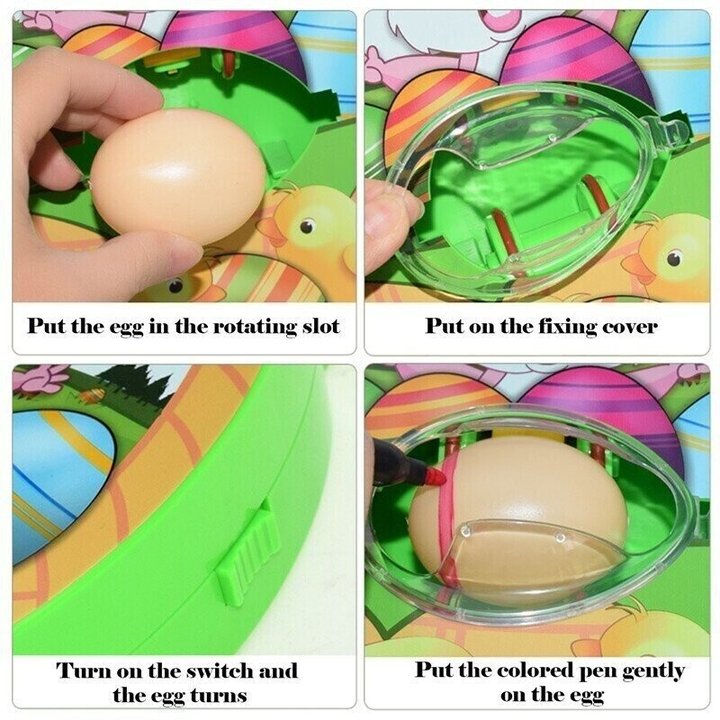 🐰Made With Love for Kids
These egg decorator toys are made of high-quality plastic, non-toxic makers, no sharp edge, eco-friendly and durable materials not harmful to children's health.
The kit includes an egg dyeing machine, 8 quick-drying markers with different colors, 3 plastic toy eggs that work safely with 3 AA batteries.
Easter Egg Decorator Kit is a perfect gift. We believe that children will be thrilled by this gift!
Kit includes 1 EggMazing Spinner and 8 colorful Non-Toxic markers; Requires 4 AA Batteries (Not Included)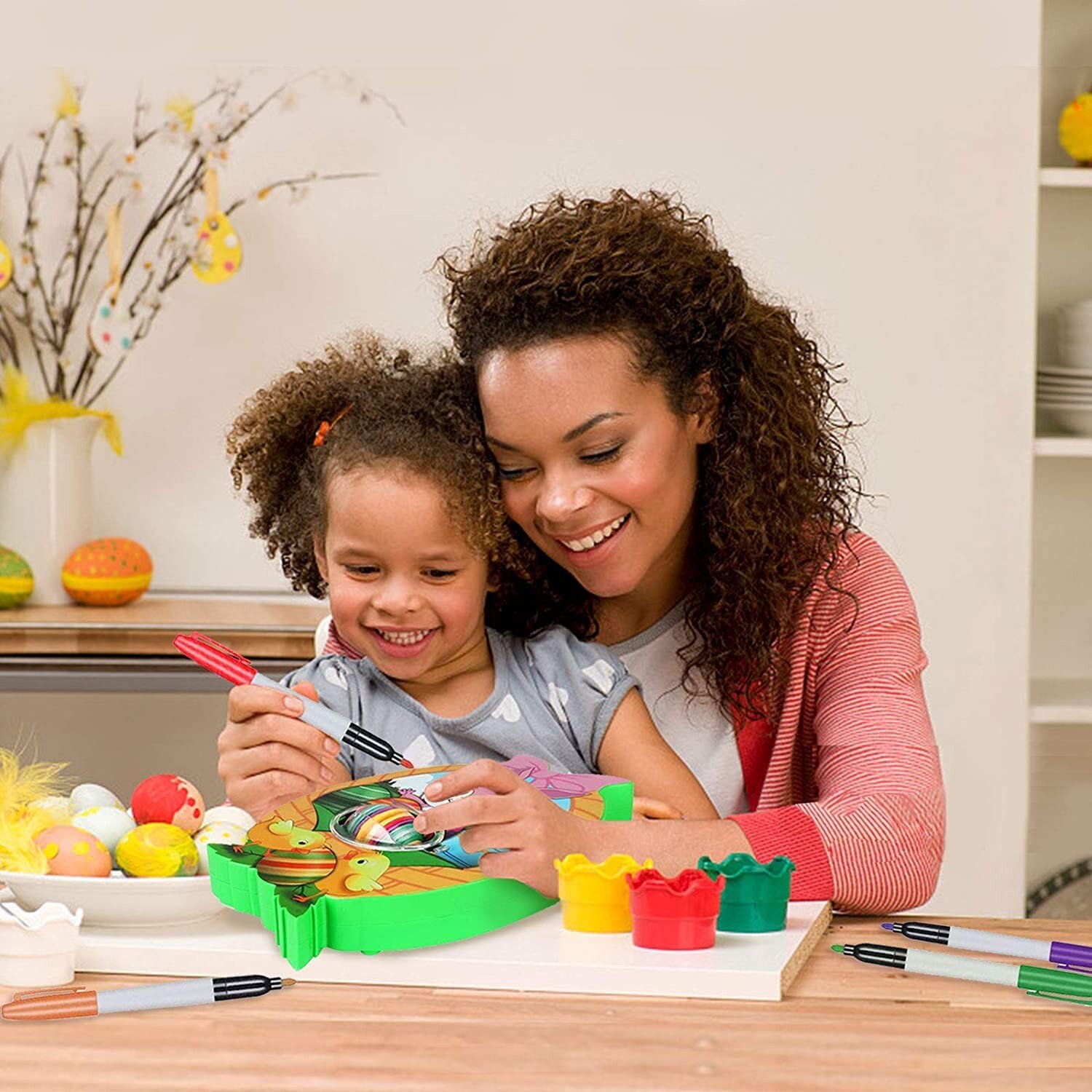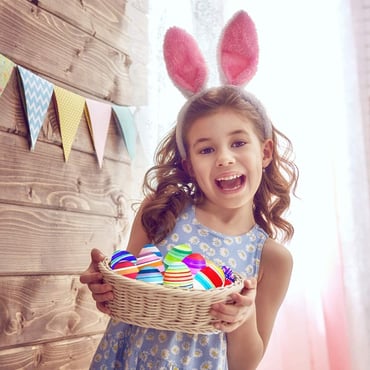 Children's work display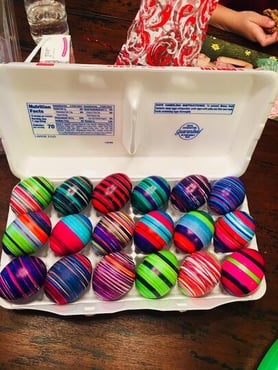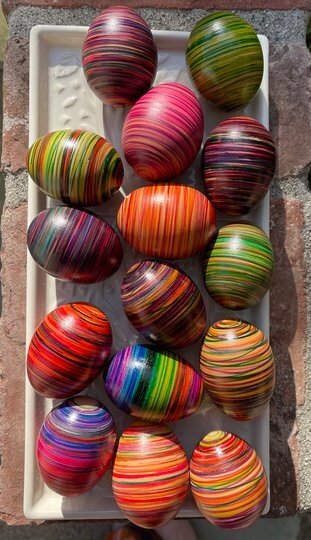 "I can say that he hasn't gotten bored of it yet!"
We will never dye again! This little plastic contraption was the best entertainment on Easter weekend. We probably colored close to 100 eggs! The kids started out using plastic eggs that I've had sitting around from previous Easter holidays. I also bought a pack of sharpies for more color options. The plastic eggs worked great! The are very light-weight though and when you color the ends, it may get off balance and pop out.
But the kids would help each out by slightly holding down the other end while the other friend colored the opposite end. We used it the next day on real eggs and even the adults wanted in on the fun! It's just so 'satisfying' watching it spin. I just went online to buy the ornament one for Christmas before they jack up the prices! Genius product! Kept the kids entertained longer than most toys/activities.