🎯This week special offer: Buy Ajustable Baby Wrap Sling Get '
Ergonomic Utensils with Travel Case' For FREE>>>

https://bigfantoys.com/products/ergonomic-utensils


Why Choose us?
"My daughter, Gabriella, was born on October 16, when I was only 26 weeks pregnant. She spent the first 92 days of her life in the NICU. Once she was finally home with us, the Wrap helped me so much - it calmed her down when she was fussy, allowed me to get things done around the house, and most importantly, provided me (still does!!) with hours of bonding and touch that we weren't able to have in the hospital. So thank you, for a wonderful product that I recommend to everyone I know!"
- MARY ZUNINO
"My husband and I had just had our second child, a sweet girl, and he was set to deploy a month later. Then the big question came of how I was to care for two under two by myself until he came back for the holidays. I found the light weight material and easy to use this Wrap was our answer. The weekend before he left we were able to use it and it gave me confidence for these next few months to tackle motherhood! Thank you so much for the quick shipping and a product that is beyond helpful while my husband is away!"
- JESSICA NIKIEL
"Just wanted to tell you how much I love the Wraps. We live in an urban city and two weeks postpartum with baby four we were walking miles for school pick ups, baseball games, and for groceries at Trader Joe's. I just love how comfortable my babies are when wrapped up. And I love that even though we are out and about I can still cuddle them, kiss their heads, and tickle their feet!"
- LISA SWANSON
See How Easy it is to Use!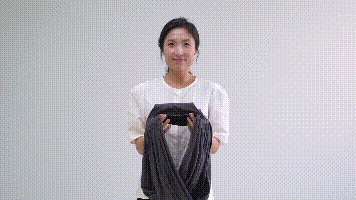 Reduce infant crying, increase connection, and enjoy hands-free wearing in our buttery-soft and breathable Solly Wrap. Even weight distribution and a custom fit keep you + baby comfortable for hours on end, while our lightweight fabric makes babywearing possible (and, in fact, enjoyable!) year-round.
Made from sustainably sourced and biodegradable 100% certified TENCEL™ modal (sourced from the pulp of Austrian Beechwood trees). Sewn in Los Angeles.
Designed for babes up to 25 pounds. One size, universal fit (ideal for petite + plus size!). Machine washable (cold gentle wash; tumble dry low).