From professional artists to hobbyists and beginners, NomadColor Portable Watercolor Kits come with everything needed to create on the go.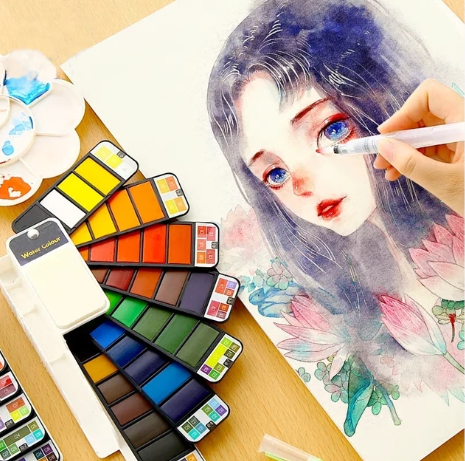 42 ASSORTED VIBRANT COLORS: Superior choice of bright, vivid and striking pigments that blend seamlessly with each other. The lightfast pigments are from Italy, quick to dry, resistant to fading and discoloration from direct sunlight. They are great for urban, field, and outdoor sketching without fading.
PORTABLE TRAVEL WATERCOLOR SET: The set includes 18/42 colors watercolor paints, 1 water brush, a palette and a sponge. They are stored well in a plastic carrying bag, will satisfy all your requirements for travel and field sketch painting.
QUALITY WATERCOLOR BRUSHES: Highly durable brushes, 2 round tip brushes and 1 flat tip brush, easy to squeeze barrel for maximum control of water flow. From the smallest details to the largest coat applications, every stroke will come to life. Hassle-free painting for home, work, school, and travel.
NEW DESIGN: Space saving foldable watercolor paint set hold is easy for pigment display and collapses for easy storage. There are color charts at the bottom of each layer, easier for you to choose colors. The sleek and compact design makes it slip easily into your jacket pocket, travel bag, and backpack.
Each set comes with a free smart refillable watercolor brush & painter's Sponge.
How to Use Water Brushes?
Unscrew the top of the brush
Fill the brush barrel 2/3 with water and replace the top
Point brush downwards and gently squeeze barrel until brush head becomes moist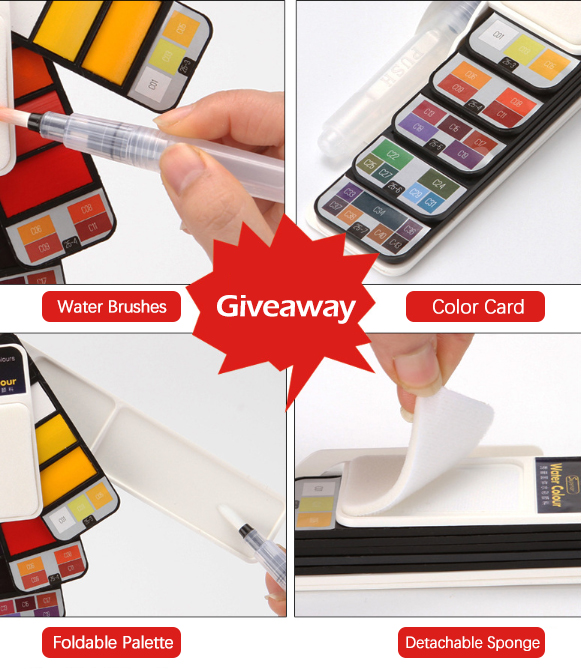 Dimensions:
18 Set: 14.5cm X 5.3cm X 1.5cm / 5.7'' X 2.9'' X 0.6''
42 Set: 19.6cm X 5.3cm X 2.5cm / 7.7'' X 2.9'' X 1''
Package Includes:
18/42 Assorted Watercolors
1 Water Brushes
A Foldable Palette
A Detachable Sponge
A Color Card