Amazingly, the portable painter micro is actually smaller than a credit card! Yet it transforms in seconds into a complete palette!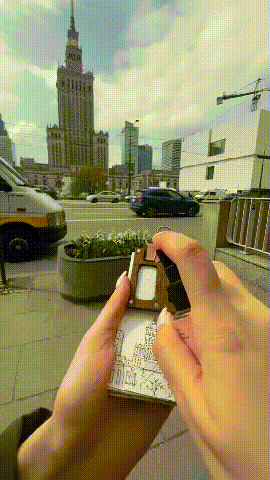 FEATURES:
Quality Materials: Made of high-quality black walnut wood, each color box is carefully handcrafted to ensure its durability and uniqueness.

Unique Design: Each has its own lid and holds up to 8 watercolor pans (not included). The lid opens and closes easily to keep paint safe and prevent any unwanted mixing or spilling.

Easy to Use: It attaches easily to a sketch pad or journal with a clip for hands-free use.

Portable: It fits effortlessly in a pocket or purse so it's perfect for travel, micro-urban sketching, and plain air painting.

Wide Used: A pocket-sized art studio! The palette is suitable for a variety of paints, such as watercolor, acrylic, and other paints.
SPECIFICATION:
Material: Black Walnut
Size: 6x3x1.8cm
Not include watercolor paints
PACKAGE INCLUDE:
1 * Portable Black Walnut Palette