Improve concentration, exercise hand-eye coordination, baby likes to play for half a day every day.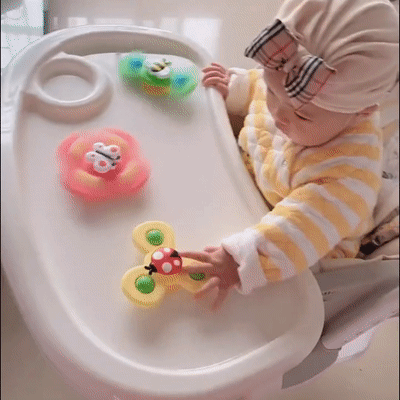 The shape is sleek, without burrs and corners, and cares for the kid's tender hands.
FEATURES:
High-quality Material: The suction cup top toys are made of high-quality materials that are easy to grip, soft and durable, and safe for children. So that your child can play with confidence.
Sensory Stimulation: A variety of colors and Insect shapes attract childrens attention and easily arouse their interest.
Puzzle Education: During the game, hand-eye coordination, grasping, adsorption, rotation and other actions can help improve the babys hand-eye coordination ability and exercise fine hand movements.
Novel Design: Three different Insect-shaped spinner toys, Let babies perceive the charm of balance, rotation and time in the game. It can divert the baby's attention and reduce the child's emotional stress. At the same time, it can increase the fun and exercise of the brain to help children grow.
Practicality: The cartoon appearance is designed with a rotating toy, which is very cute and fun for children. It is the best gift for your little kids.
Specifications:
Material: TPE
Age: 6-month +