Give this wooden spinning lollipop a spin and see it transform from a swirl to a burst in one simple motion.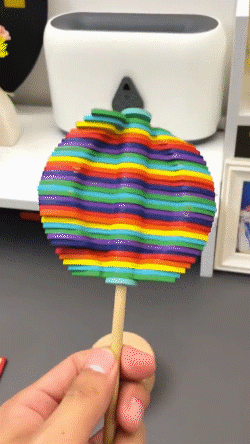 Hours of mesmerizing fun or as a stress reliever from a busy day of work.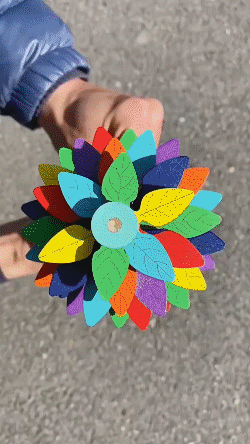 Product Details
Unique Visual Experience: The wand is painted with different colors (please note that the lollipop color "wood color" is solid), and it has a beautiful graduated effect when all the leaves come together, giving you an experience comfortable visual.
Stress Relief Kit: The spiral lollipop can show multiple shapes through the twist of the stick, most importantly, the toy is portable and can be put on any flat surface; Combined with the bright color effect, relax your mind and your style.
Exquisite Craftsmanship: Laser engraving crafts are used to make sure that each sheet is the same size and all sheets are covered with safe and environmentally friendly water-based paint. Also, the lollipop is polished, so the surface is so smooth without burrs.
Two ways to rotate it: it comes with a base, you can insert the spiral lollipop into the base, then put it on the desktop, it can be rotated no matter whether the base is used or not. With a stylish look, it can also be an ornament for your desk or room.

Specification
Material: wood
Color: Colorful / primary color
Applicable age: More than 3 years old

Package Content
1*Wooden decompression toys